"Wir träumen von freiheit und sind doch sklaven unserer gewohnheiten
(We dream of liberty, yet we are but slaves to our habits)"  –
Sowiso [Aachen drinking hole] toilet graffiti
I had set out on a trip around the Canaries on a bit of a magic roundabout. Going round in circles seems to be more of a day sailor's outing, and I hadn't really done any courses with an N for North in it since Belgium. But this was to be my holiday, the culmination of two years of fixing the boat in exotic locations, which some regard to be the essence of cruising a sailing vessel, and partying my not particularly godfearing backside off all over Europe.
Our elite + minimalist team consisting of Aaron and Anna got blasted from La Gomera to Gran Canaria by the vicious funnels around Teide. The blue crests of the 3 metre seas were almost transparent in bits, and we were all pleased to arrive in the blistering, windless heat of southern Puerto Rico. This was to be the setting for Arron's lunatic goodbye party after three months and a thousand miles on the Republic, and the arrival of my childhood friend Natalie and a brief visit of my friends Stuart and Jenny J from Gran Canaria. We managed to get kicked out of Puerto Rico by the harbour master, an abject creature, deeply fond exercising what little authority life has in stall for him. Arron's goodbye party was just a little bit too much for this trashy beach resort. We swiftly moved along to posh Pasito Blanco down the road.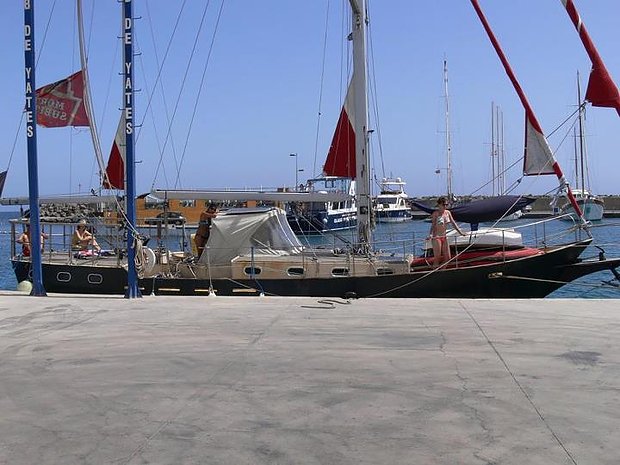 In our defence, I might add that I feel hedonism is not just the nihilistic pursuit of fun; rather, and contrary to popular wisdom, it has the power to foster the elevation of mankind, since the pursuit of pleasure is deeply incompatible with coercion, and all the wrongdoing that stems from making the human mammal behave contrary to its own nature. That's why religious entities and the proponents thereof have always feared the earthly delights of sexual freedom without procreation. And what's wrong with enjoying oneself anyway? Even if it does involve horrors such as "swimming in the harbour, being drunk, and playing loud music until dawn" in a marina on the outskirts of the touristy heart of darkness that is southern Gran Canaria.
Keith, an experienced sailor and professional photographer, joined us here, and we motored back up to Las Palmas up the east coast of Gran Canaria. The only issue with the roundabout concept is that the trade winds tend to blow from one direction only: North. Heeding the traditional dictum that gentlemen don't sail to windward, this entailed a fair bit of motoring. We stopped over in an abandoned industrial port on the Eastern coast of the island, went on (back) up to Las Palmas, and spent a week celebrating our arrival and survival in the company of new arrival Hannah, a charming teacher with an excellent sense of humour. This involved a sushi orgy and disco outing in the company of residents Stuart and Jenny J, as well as our local party guides Ylenia and Isis.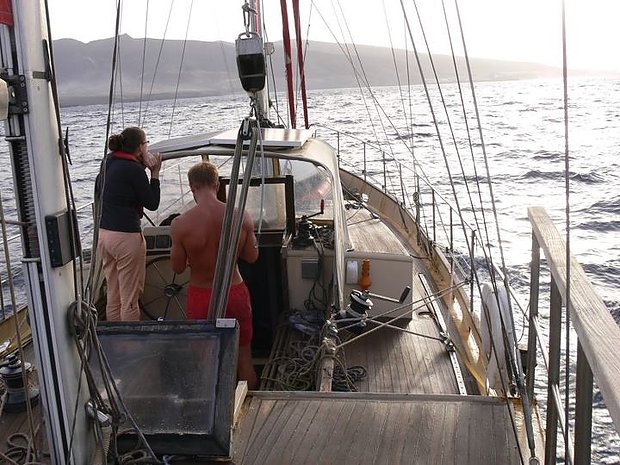 Las Palmas is full of classic boat gypsies, and I rarely get out hang out with peers. In fact, boatists don't really have a peer group, rather, and much like backpackers, they tend to conglomerate in herds at bottlenecks of the traditional routes, while still insisting on their delusions of autonomous travel. I spotted the former Berlin Express, now owned by a reggae fanatic Frenchie, and two other Libertalias around the harbour. There was also some fiddling to be done. Your poor old narrator, formerly an office warrior, veteran of a glorious three month stint as a consultant in central London, had to acquire a number of real-world skills in the course of The Project, one of them being the fixing of shit pumps. Yep, the innocently named 'black water pump' had packed up, and I spent most of the week taking it apart and putting it back together again. I even opened its cousin, the shit tank, and had a good look around its contents. Lovely stuff.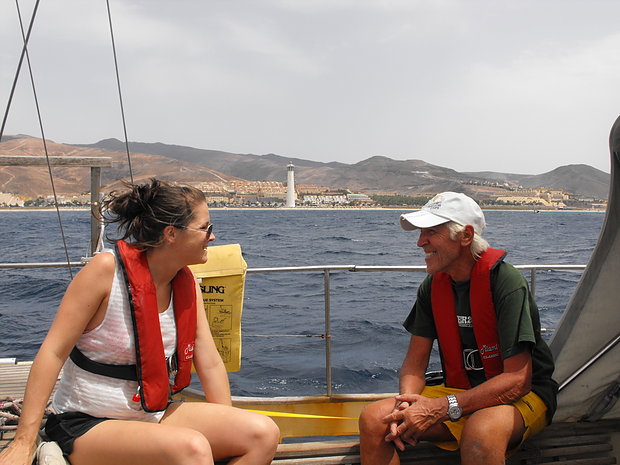 Having resolved this minor hiccup, I got half a ton of diesel for the onward journey, and set off for a 12 hour sail to Fuerteventura with Hannah and Keith. Morro Jable, at the bottom of Fuerteventura, turned out to be another tourist resort, this time packed out with Germans. They are mainly packed up in the so-called Robinson Club, a chain of beach resorts run by TUI or some such carrier. Their poolside animation is nothing short of hilarious. We spent a few days playing guess-a-tourist, which involves declaring the likely nationality of an oncoming tourist by their clothing and gait; the riddle is resolved by eavesdropping on their conversation or chatting them up in the most likely-looking language. Amusing as that may have been, we quickly got bored and motored up Costa Calma to Gran Tarajal, a pretty town and surprising oasis of Spanishness around the islands. I quickly fell in love with this place, its Italian ice cream, affordable gym, fantastic internet cafe, and last but not least, a Dominican bar named Brasil.
Modern human mythology has it that piling up humans in big cities leads to some sort of crowd intelligence effect, as is the case with ant colonies. Humans are a strange species of monkey; alienated from their true nature and indeed needs, and suffering of a god complex, ie. the tendency to overestimate our intellectual prowess. I contend that the exact opposite to the insect effect occurs: As is commonly known, we are mammals and tend to form herds, with all the well-documented effects on intelligence and decision-making. The long and short of it being: I like small communities, and we celebrated my discovery of this year's likely winter hideout in the company of new arrival Julien, a musician, photographer, and artist from Switzerland, in the aforementioned bar Brasil. And the village disco. And then some. We left Keith at the mercy of Terry, an English eccentric expatriate, and, somewhat amusingly, professional builder of sandcastles. I spent days humming the thematically related Hendrix song after that.
Our way to the northern end of Lanzarote was interrupted by a stopover in a tiny marina in a touristy setting (this time mainly English dominated) for weather reasons. Catherine, an experienced sailor and party animal, joined us here. We had a round of dingy lessons for the less experienced among us. Hannah, technically one of the more experienced, quickly earned herself the nick "Captain Capsize" on account of her talent of tipping tiny Minime time and again. She was heroically rescued by Julien and Catherine – twice. We befriended some locals, went to the gym, and witnessed Keith's impressive Karaoke talent.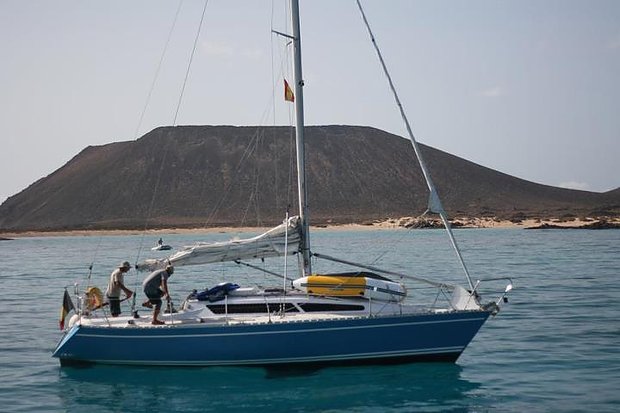 Next up was a stopover at the barely inhabited Isla de Lobos. We were now entering my former stomping ground in the Canaries, Lanzarote and Fuerteventura, and I felt right at home. We spent two days at anchor, did lots of snorkelling, some dingy sailing, and walks around the island. My friend Marky v R came down from Corralejos to greet me; he left Belgium on his boat a few months ago, and seeing him down here was nothing short of historical. Sharing the euphoria that comes from doing stupid things with a lot of enthusiasm was rather pleasing.
On we went to Corralejos for more reunions with old friends, a silly bit of partying, as well as beach days at the pretty dunes of Coralejos. And on to the Lanzarote beach of Papagaios for another two days at anchor. And on to Puerto Calero, my port of entry to the Canaries, back to square one. Sadly Keith and Catherine evaporated at this stage. Humans are beings of habit, and we like dwelling on proven recipes.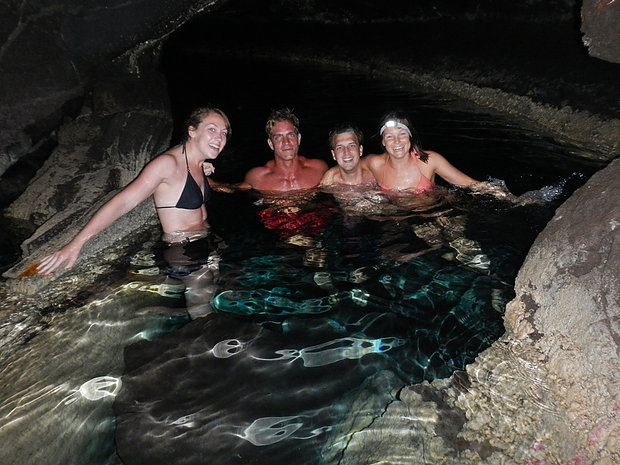 I'm actually getting good at the non-touristy tour of touristy Lanzarote: We visited the spot next to the Mirador del Rio where you get to see La Graciosa without paying the extortionate entry fee, did the forbidden Cueva de los siete lagos again, a one hour all you can drink with billiard contest, and enjoyed a octopus Sam shot for us near the port. Julien left, not without nearly killing the leftovers by insisting on two goodbye party nights. He was substituted by Hannah's mother Margaret, who immediately washed my favourite doesn't-need-washing starbuck's cup, and whose extensive sailing skills were really put to waste during the latter end of the month of motoring.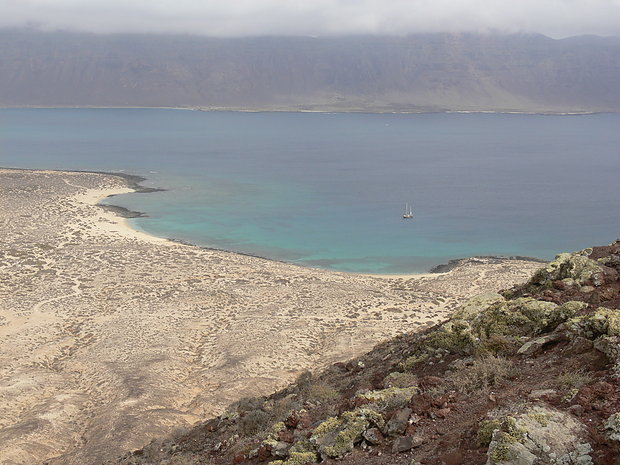 We're currently at anchor off La Graciosa, perhaps the prettiest of what my local friend calls "islas desiertas en el medio del mar" [desert islands in the middle of the ocean]. I will be having another crew change, and get ready for a little holiday from my holiday. Festivities are due to recommence in mid-October. That's all.