"What surprises me most about humanity is man. He sacrifices his health in order to make money. Then he sacrifices money to recuperate his health. And then he is so anxious about the future that he does not enjoy the present; the result being that he does not live in the present or the future; he lives as if he is never going to die, and then dies never having really lived."  –
Dalai Lama
A long winter of hard work and no play nearly made this humble narrator a dull boy. Barry R turned up a full month early to help bodge the boat up to ocean travel standards. And turn the aft cabin into a fully fledged orgy platform. My local friend Sandra helped redo the name on the stern with a stencil. And we mounted some solar panels. And my neighbour Klaus gave me a lovely rotting rib, which should do us for a season or two. And we had a lot of fun, too. Pamela the South African also came to help, sadly she had to leave again due to Visa issues.
A bout of incessant goodbye partying commenced, which escalated into one particularly vicious and slightly absurd event called the "Goodbye Almeria Not Party"; it got its name since I definitely didn't want to have a goodbye party, even though it turned into one. More crew arrived, and a first attempt to leave Almería against an everlasting Levanter (strong southwesterly, ie wrong direction) was launched. Gale force winds drove us back to base, and more goodbyeing followed. There were even accusations that your narrator's enamoured state was the actual reason for our failure to leave.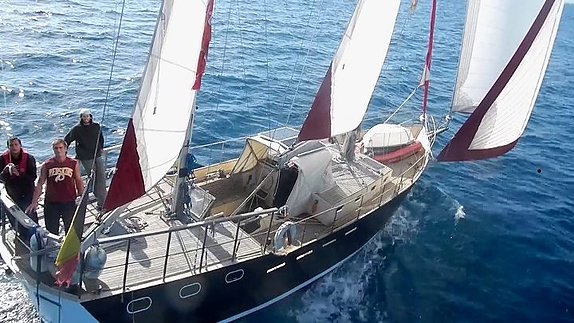 Eventually the crew crystallised into a bit of a dream team, consisting of Cody "the botanist" G, Barry "Baz" R, and my old friend and soulmate Mike V. And Ursula of course. The wind changed, and a light Poniente (northeasterly) drove us down to Melilla, our first stop on what was to become a tour of weird European exclaves. We met some fairly pleasing boat gypsies there, including a guy who had built a lovely wooden schooner, or two, as he explained, since the Irish customs took his first one and put him away for half a decade upon discovering a ton of hash in the keel. Frank had just finished his round the world trip and impressed us with his tales from the south seas. Tahitian fertility dances. And so on.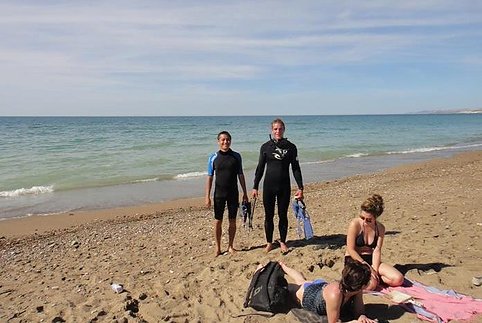 We went on a little daytrip to timidly dip our toes into Morocco. A strange country, where they hide the fairer half of the species away in big, tent-like textiles, with some of them even wearing bizarre ninja outfits. But Morocco had changed since my last visit more than a decade ago, and the textiles are receding a bit here and there. Old habits die hard, however, and the taxi driver clearly preferred negotiating the price with me rather than our local female friends. When he had the cheek to go back on the agreed price just before departure he got a bit of a dressing down courtesy of Louise the Frenchie, I could hardly contain my glee watching this old macho getting the low-down on pricing ethics by a young woman!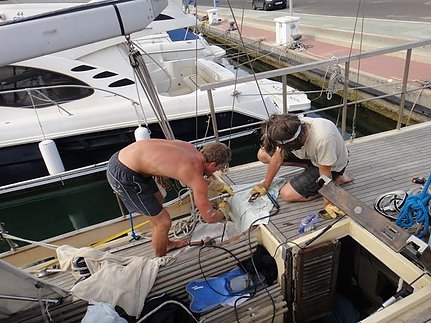 As always, we also had plenty of boat fiddling to get through. Noone really knows who came up with Mr. Dolphincam idea. I suspect it may have been the Botanist. Whatever the case may be, we soon bodged together a delightful underwater cam on a stick. Any excuse to get the welder and sergeant angle grinder out. Cody did his first weld, immediately surpassing his teacher in quality and style.. Sigh.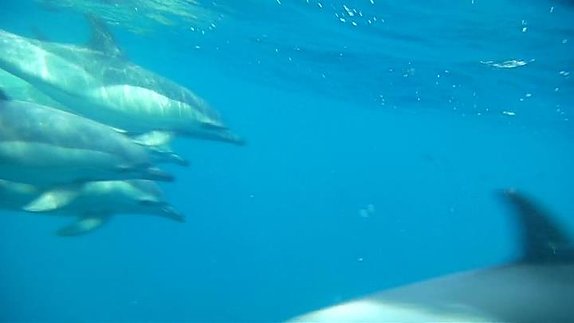 Then we had a little goodbye party, or two, the Poniente showed, and off to Ceuta we went. The dolphins did their usual photogenic thing, and Barry did a superb pan of them prancing about around our bowsprit. Our new, smaller team was proving itself, making cruising the pond seem like a walk in the park. We did Ceuta for a weekend, had a sushi party with some charming locals, had the rest of the sushi for breakfast after getting back from the disco at 0830, and generally did our best to entertain ourselves. We climbed Ceuta's hill and the boys went to visit Gibraltar to round off their tour of weird exclaves. Ceuta has some monkeys too, but there's only three very sad and slightly ill looking ones. Overall, Ceuta seems to be Spain's "me too" on the bizarre territorial claims on foreign soils game.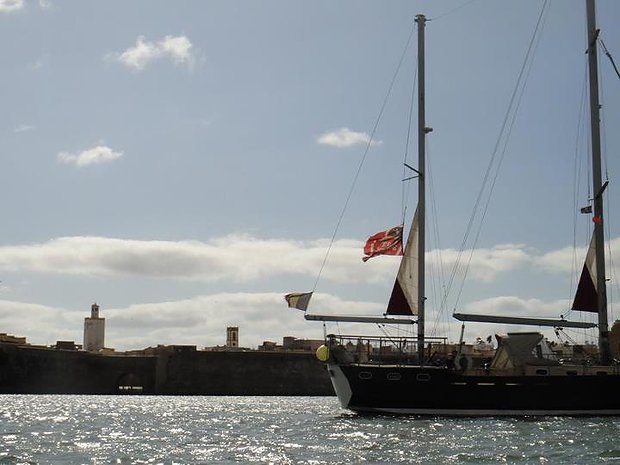 The next Levanter spat us out far onto the Atlantic, we turned south around 60 nautical miles offshore, and caught northerly winds. Mentsch tracht, Gott lacht [Man plans, God laughs. Yiddish proverb] – but in this case, my plan actually sold and we made it straight to western Morocco, to El Jadida. We anchored right below a 16th(?) century fort, and spent a few days provisioning and exploring Morocco proper. The local custom's person shook us down for whiskey. I let him know I don't drink for religious reasons, bit of an insider joke, and one I got out on various occasions during the Morocco stint.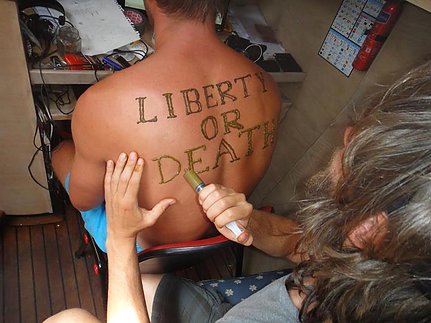 We got a nikab for the skipper's femme fatale, or his sister Ursula, or perhaps both. Funnily enough, Morocco is moving along swiftly, and this very modest and elegant textile, which has protected women from horny looks for centuries, was actually rather hard to find. In the end, I had to pay an extortionate fee to the local who found it for us. He assured me it came straight from Egypt, land of pyramids, genital mutilation, and, apparently, nikabs. The Henna girls very kindly taught us how to mix it up, and we were all soon covered in the stuff.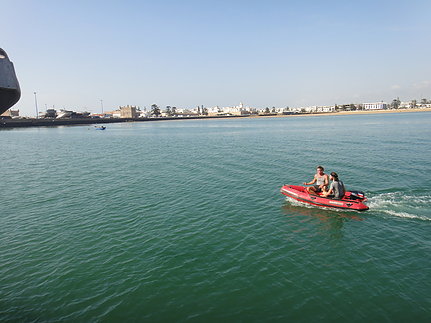 We did a swift overnighter to Essaouira, and anchored off the village. This place is heavily tourist infested, I blame Jimmy Hendrix who came here in the 60s, along with Cat Stevens, who allegedly also turned into a nikab admirer following a hefty car crash. We got some legendary Obi Wan outfits, and bid our Botanist farewell. An expedition without a Botanist is something deeply wrong, and, adding insult to injury, there was some trepidation over our next leg to the Canaries: 270 nautical miles entailing 2 or 3 days with just 2 lonesome sailors.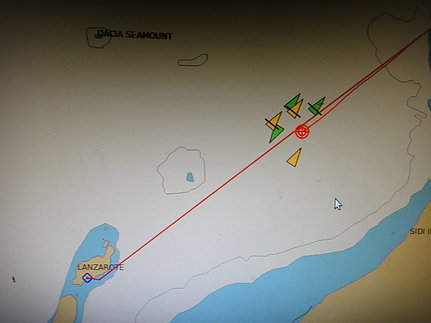 The say risk-free living is a slow death, and our walk in the park to Lanzarote was hindered by the fact that the park reared its ugly head and tried to swallow us. Well, I exaggerate slightly, the gale force wind on our stern quarter was actually rather pleasant to sail. Especially once we'd pumped out the water from the forecastle. It also fired monster down to Lanzarote like a bucking bronco on cheap amphetamine.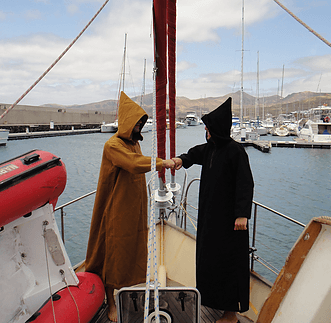 We got to Lanzarote in just 40 hours of 2 hours on 2 hours off watches, and commenced docking lager celebrations immediately. The safest place in the world is under mum's bed, but I gather it's also pretty boring down there. And the euphoria of not sleeping for days and celebrating in obi wan costumes is something deeply special. Decision was taken to take the rest of the summer off to explore the islands and get some serious snorkelling done.