"Life is either a daring adventure or nothing."  –
Helen Keller
Having set off from Cherbourg sometime around the 18th of April (I should really be taking that logbook business more seriously!) we reached Guernsey after 8 hours of motoring through a dead-calm version of the feared Audierne race with numerous filter changes. We spent a few days on Guernsey, a weird
tax oasis
under direct control of the crown; here, we cleaned and emptied the much-troubled contaminated fuel tank and got some super cheap diesel.
This was followed by a big leg around the end of Brittany towards Brest. The strong high pressure at the time meant delightful weather and zero wind, so we were once again motoring along. The French customs decided to board around midnight. I love them, I really do. They arrived on an unlit cutter on my watch, and the first sign of them was a huge searchlight in my face and noise on the radio. Eventually we had 6 of them on board, the classic professor type was filling in the forms, whilst two of them were trampling over Toby's bed by the engine room, going through all my drawers, and even my underwear. I felt a hint of sweet schadenfreude as I hadn't done my laundry in a fair while. This might actually be a new cardinal rule for us: Always bring some dirty laundry for visiting gestapo types to rummage around in.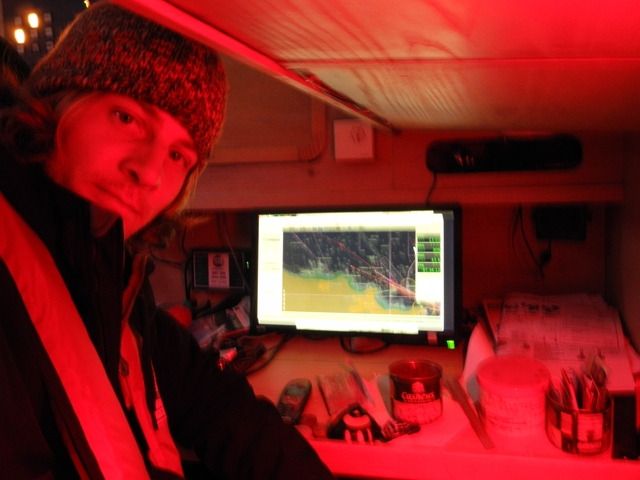 There was some drama later that night as the engine decided to fail just off Finisterre – we found that a single bit of the tank paintwork had clogged up the line leading up to the filter. Whilst fixing it, we accidentally turned off the boat's DC systems, leaving poor Fraser in command of an unlit boat without navigation systems. We then ended up with the big genoa on the wrong side and nasty heel. We sorted everything out eventually, and pulled into L'Aber Ilnot at the top of the notorious Raz de Seine, since we'd missed our tidal window for Raz de Seine thanks to our visitors or the engine or both.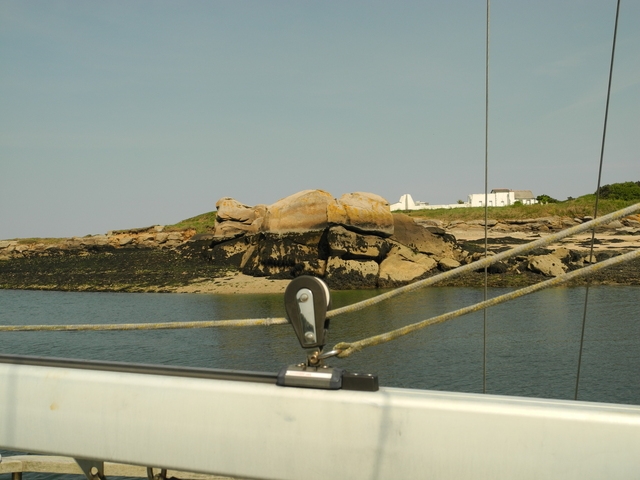 L'Aber Ilnot is a scenic harbour up a lovely river, we spent a night on the moorings there to get some proper sleep in. The next day, we got sucked through the Raz de Seine, riding its monstrous currents. We hit some fairly nasty overfalls at the bottom, since there was a bit of wind over tide, and the French called us on the radio telling us we couldn't enter Brest since they had a nuclear submarine passing through. Having waited offshore for a bit, we decided to head into Camaret-sur-Mer for the night, which seems to be a fairly soulless touristy operation. We sailed around the Rade de Brest for most of the day, practising some MOB (man over board) under sails action. Sadly the current was very strong, and the dude (livering) could only be recovered by engine-powered cheating. I told my co-sailors to never ever go overboard, especially in strong currents, and we pulled into Brest Moulin Blanc.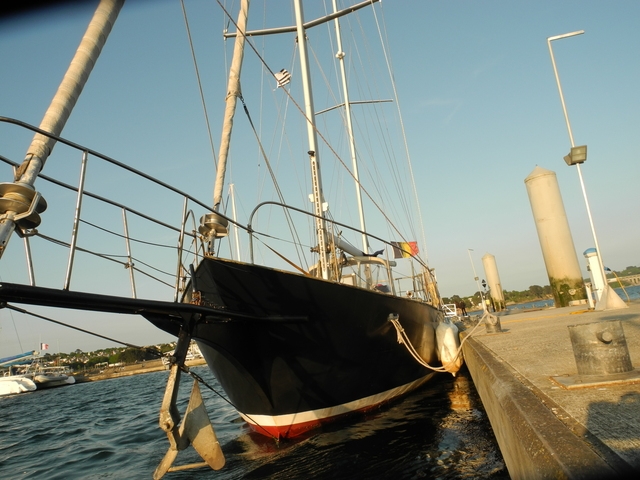 At Moulin Blanc, we careened monster on a drying concrete slope – there's a first time for everything, and I must admit I was rather nervous about this operation – balancing 25 tons of boat on a 30 cm keel, that is. All went well though, and we fixed the dripping stuffing box and a sea cock. The harbour bar is called Tour de Monde, and the party turned out to be pretty good. After a couple of days of similar nonsense, we sailed down to Audierne through the Raz de Seine on a lovely day.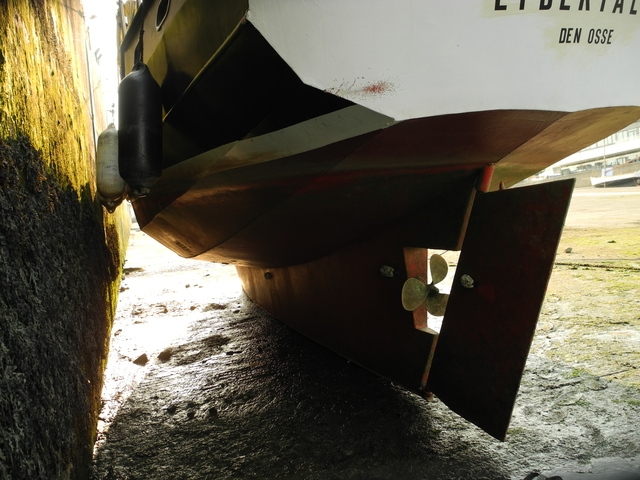 The Atlantic greeted us with a lovely NE F6, and we spent a few hours romping down towards Audierne at full speed. We spent a night on the moorings and entered the pretty harbour of Audierne, another river mound, at high tide. where we spent two weeks waiting for parts. They say cruising is fixing your boat in exotic locations, and although Audierne isn't all that exotic, it's nonetheless very pretty. the locals were lovely, Toby got quite a bit of surfing done, and I checked and upgraded all systems with Fraser for the Biscay crossing.
Eventually, we were ready to go, and after a last BBQ with our local friends, we set off on Wednesday the 11th of May. The winds were perfect, and we made good progress throughout. A pod of dolphins lent us their company for a fair while. I never get bored of watching them. The main challenge was sleeping at the right moment as dictated by the watch schedule.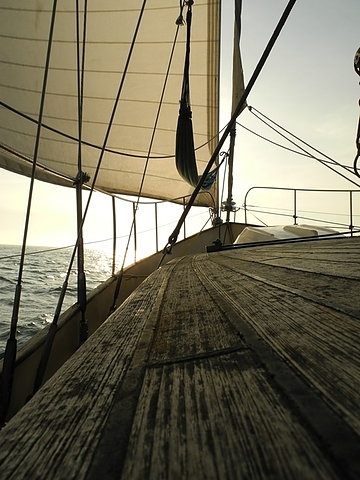 On the last night, and around 60 nm off the Spanish coast, the winds built to a solid F6 gusting to F8, and I later found out that the BBC had issued a gale warning for our area. We never managed to tune into the BBC world service at the right time to find out about it, I suppose it's better not to know and worry about it all day long. I reefed too late, resulting in autopilot pump failure, meaning we had to hand steer through fairly choppy & confused seas for the last 8 hours. I was entirely exhausted from not sleeping properly for 3 days, I couldn't even focus on the compass, and I just passed out on my break. I woke up to find that Fraser and Toby had heroically hand-steered monster for 4 hours, bringing the boat right up to La Coruna, leaving me to do the final approach. We slept all day and partied all night.
I am going to fix the autopilot here and get the hydraulic ram overhauled. La Coruna is beautiful, and the sun feels a few degrees hotter down here. We will spend the next few weeks taking day-sails down the Spanish and eventually the Portuguese coast. I am particularly looking forward to doing lots of anchoring and snorkelling in the Spanish Rias and the tasty-sounding Islas Cies off Vigo, which I've been wanting to visit since reading a fairly silly Guardian article on the most beautiful beaches of the world.