"People have only as much liberty as they have the intelligence to want and the courage to take."  –  
Emma Goldman
First, a word of warning: Due to my proverbial laziness, I will have to catch up on nearly 2,000 nautical miles of sailing, spread out across 7 months of unadulterated leisure in 11 countries of the Caribbean. Our incidental stay in Carriacou due to an implosion of the mechanics of my Italian-made anchorwinch capstan turned into rather a pleasant affair. We found some friends locally, L, the village puncheon rum aficionado for want of a better word, and a charmer with a big heart, C, a fisherman, who brought us back to our floating home in the middle of the night when dinghy #1 "big willy" had disappeared (this was probably due to a faulty bowline, it was found offshore by another fisherman by sheer luck), and of course R and F. They run the office, a beach bar which probably originally went by some beach bar type name, but was rechristened by us in virtue of having turned into our base of operations. It was also the setting for endless "Danish 500s". We invented this card game, and rules changed frequently by common consent.
Eventually, following two disappointing orders of the wrong parts through some sort of online chandlery, we ended up ordering the required stainless steel bits off the rack in the US. Christine booked a flight home and actually departed; luckily her itinerary included staying over on my friend Harald's boat, who kindly delivered the Danish princess back to the Republic. I had met Harald in Brazil the previous year, and we ended up buddy boating with him for much of the windward isles, starting with a day's motoring to Union Island at the rear end of St Vincent.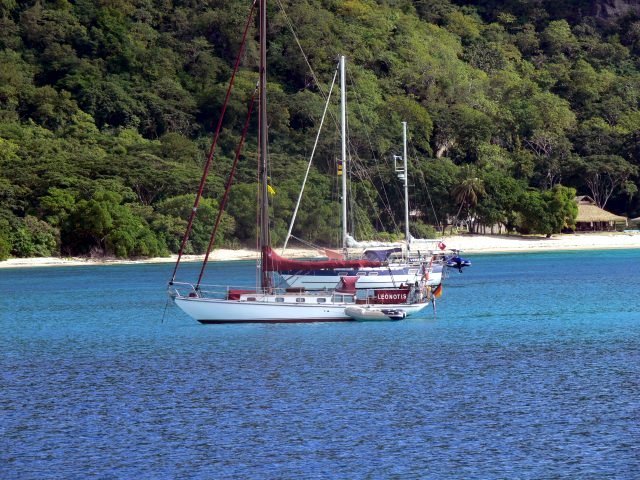 I had already been told in Trini that the islands get worse all the way up to the Bahamas, and St Vincent turned out to be a less friendly, more touristy version of Grenada. We anchored in a gloriously pretty and barely inhabited bay on the Western side, and I went for a day trip to the capital to check us into the country. The next day, we motorsailed up to Mayreau to visit the Tobago Keys, a legendarily pretty destination.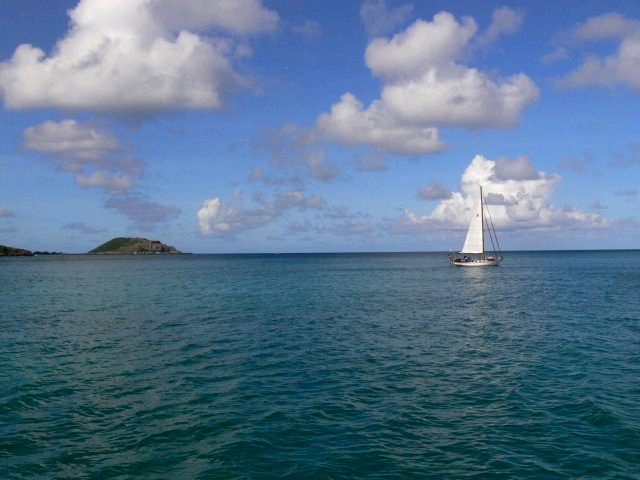 Mayreau was a rather ugly collection of t-shirt and ethno-deco vendors, a classic symptom of the cruise ship problem. The industry involves dumping thousands of ancient consumers from industrialised countries in tiny communities, before herding them back to the boat for dinner, most likely to make sure they spass all their drinking money aboard. This locust type tourism has all sorts of less savoury effects. I had seen the say no to child prostitution posters at the airport while checking in, and I was offered a blowjob but a half-grown child on my way up the hill.
The Tobago Keys were just as pretty as advertised, and overrun by charter boatists. We landed on one of the keys, spotted an enormous lizard, took some pretty postcard photos for our friends enjoying December in one of the misleadingly named temperate climate zones, and left for Canouan.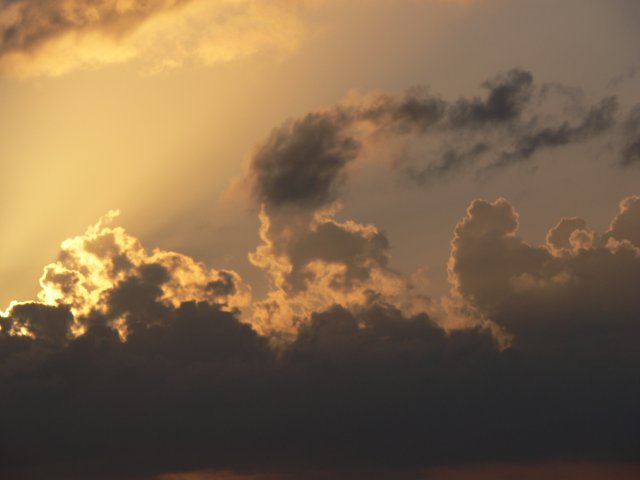 Canouan looked like a friendlier face of St Vincent; sadly, we were actually in a hurry to meet Henning in Martinique. We had a few lagers, got some water, and set off for the 2 day trip to Martinique. We ran into a nasty, huge front just off Saint Lucia, a type of tropical wave, which drove us back towards the main island of St Vincent for 10 hours, and by the time we got to Martinique, we were all thoroughly knackered.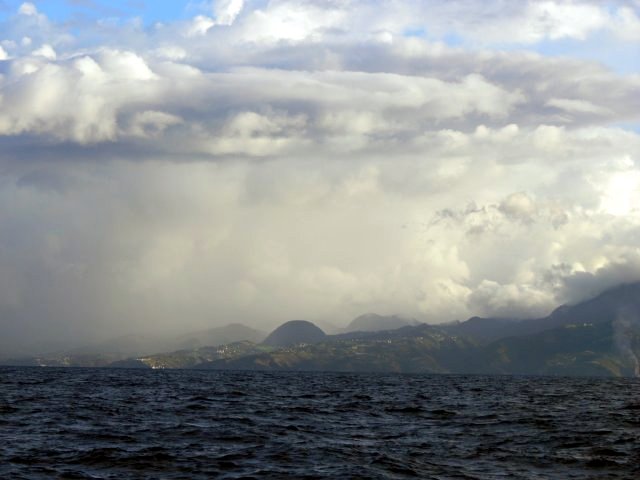 Fort-de-France was a rather pleasing bit of Europe, a bit of France in the tropics, a friendlier, more colourful version. Flags were at half mast commemorating Mandela's death, and there was a big service in the catholic cathedral. We had several cheese orgies and got through an endless series of large red wine cartons. It being the festive period, we were also partying quite a bit. This proved an expensive exercise; Oscar's bank card absconded on a late-night kebab mission, and I paid EUR 12 for a tiny shot of rum, which amused me so much that I decided to order a couple more then and there. We ended up drinking in a Dominican whorehouse that night, mostly because they had the best music.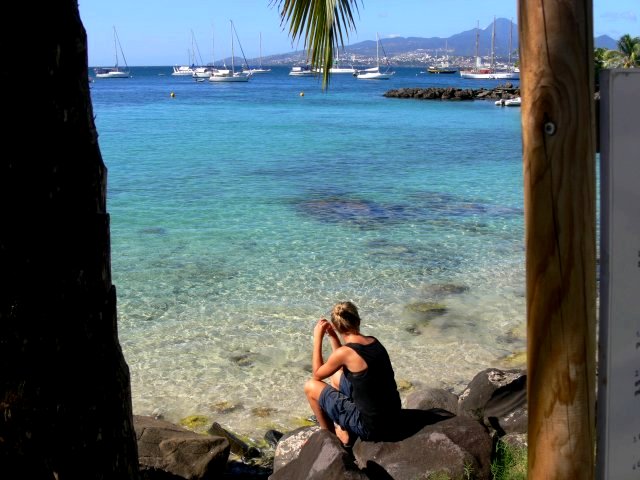 We switched across the bay to Trois Islets, a classic touristy destination, went for walks, and enjoyed some very fast internet from an unnamed source I managed to pick up from the perimeter of the bay.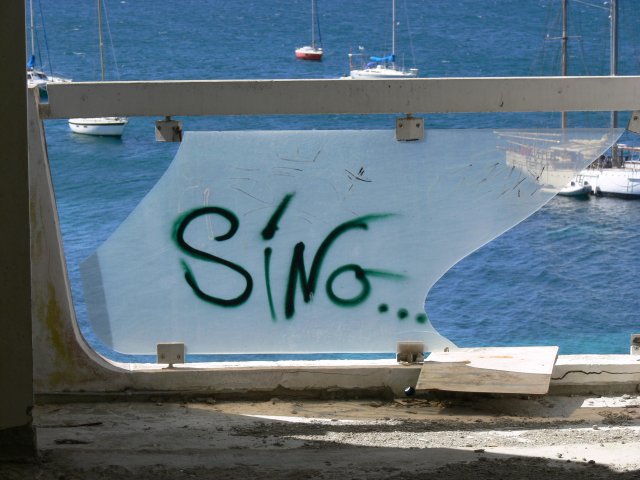 We also did some investigating of an abandoned hotel, and an entirely overgrown, second world-war fort at the tip of the tiny peninsula.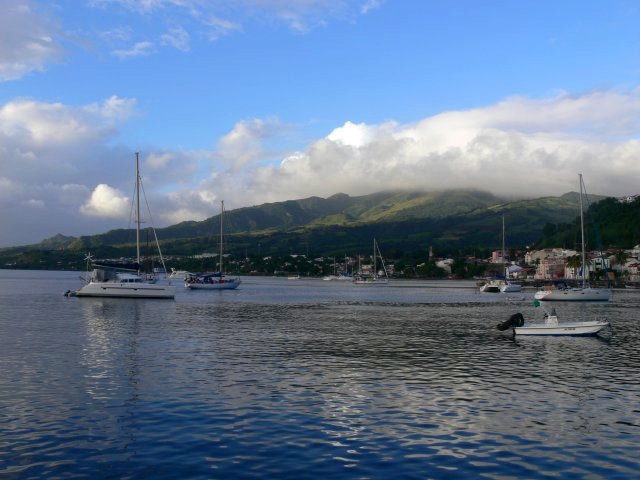 We went for a stopover in a lovely village on the west coast on our way north towards Dominica, St-Pierre. We spent Christmas here, since the boat was mostly Scandinavian-atheist this season, this was a rather leisurely affair. In fact, I can't even remember what it was like, particularly.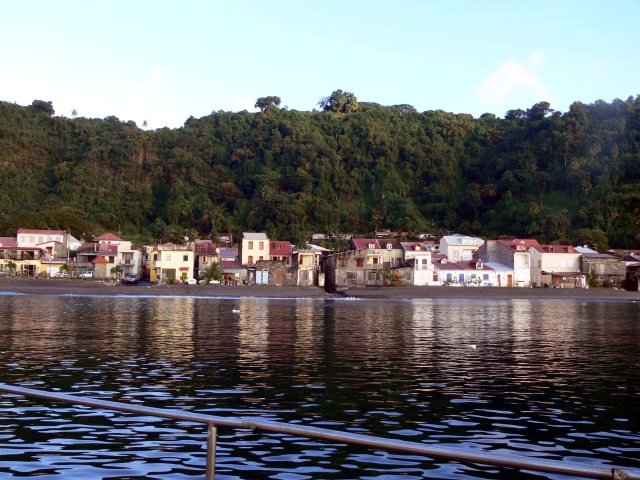 A few days later, we decided to sail up to Dominica, which was to be our last destination in the windward islands. The constant reggae, fried chicken, and religious lunacy had taken its toll, and I was rather keen to get to the hispanic side of the Caribbean. Oscar, who had been to Dominica before, put in a good word for it, we held a popular vote, and off we went.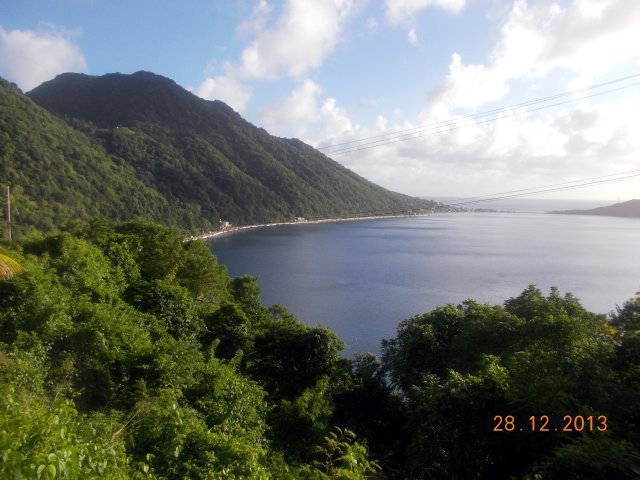 We arrived just before the new year for some good old-fashioned eco-tourism. Dominica was as beautiful as Oscar had advertised, and we enjoyed some fantastic day trips to waterfalls with hot springs, waterfalls without hot springs, and just hot springs. The island is excessively trimmed for tourists. The little kids greet any strangers by saying "welcome to Dominica, enjoy your stay" in an almost involuntary, robot-like manner; I suspect it's drilled into them at school in the same way our North American cousins have to sing their national anthem every 15 minutes. The dingy dock and buoys are off a less privileged suburb of the capital. We first attempted to anchor, but I soon discovered that the steeply shelving bottom consists of large pebbles, and an early morning squall a few hours after arrival had us very nearly colliding with a large and expensive-looking German yacht.
The dinghy dock and buoys were run by a confessed ex-crack addict, the weapon of choice on this side of Roseau, the Dominican capital. He had a bit of a temper, and we didn't really get on. I suspect the whole island suffers detrimental side-effects of the cruise ship locust disease. On some days, two cruise ships docked at Roseau, towering over a town and spilling lots of rich, middle-aged to ancient gringos into the town for quick excursions to the key waterfalls. Roseau was "switched on" for such alien landings, with reggae bars blaring dancehall and ethnic decoration vendors out en force; when there weren't any ships, the town turned to a sleepy, almost comatose state. Walking to town on one of the public holidays, we were greeted by a sole local, who shouted "the capital city is closed!".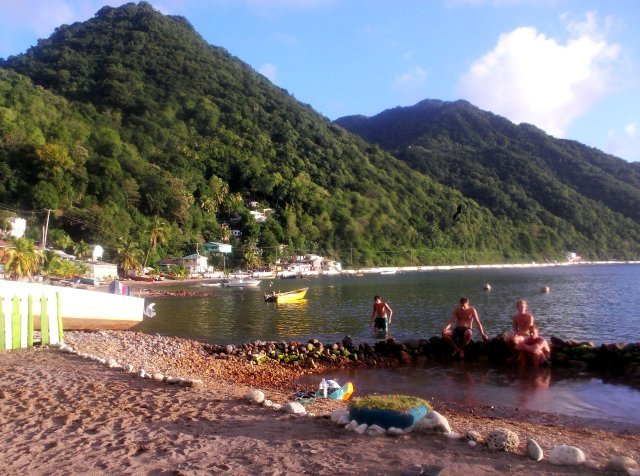 The Dominicans were even more religious than the other islands, with various protestant brands competing for souls. New Year's Eve turned out to be a bit of a disaster by Western standards. There were brief fireworks at 12, and then everybody went to bed. Except for the churchgoers, who appeared to be holding midnight masses for our Lord Baby Jesus. We ended up in the only functioning bar in our suburb for a little party with the other gringos, sailors and expats.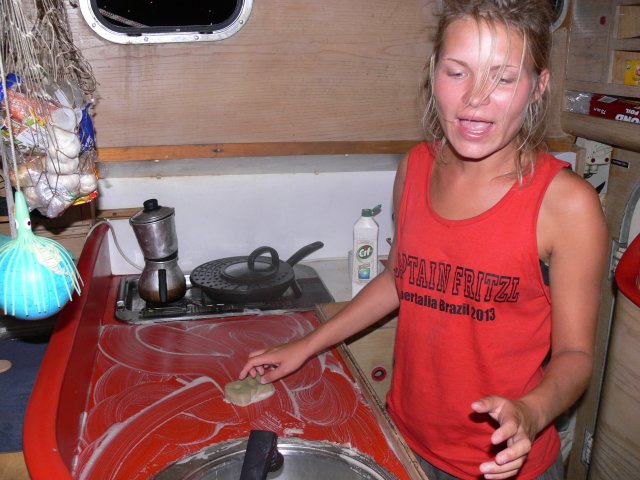 The five-day, 500 mile stroll up to the Dominican Republic was nightmarish; we had good winds, but there was a nasty, confused swell seemingly coming from all directions. The trades in the western Atlantic were rather strong, and I suspect the 4-metre swell turned messy while feeding through the windward chain. "When you stop doing things for fun you might as well be dead", as Hemingway reportedly said, however, there was very little fun being had.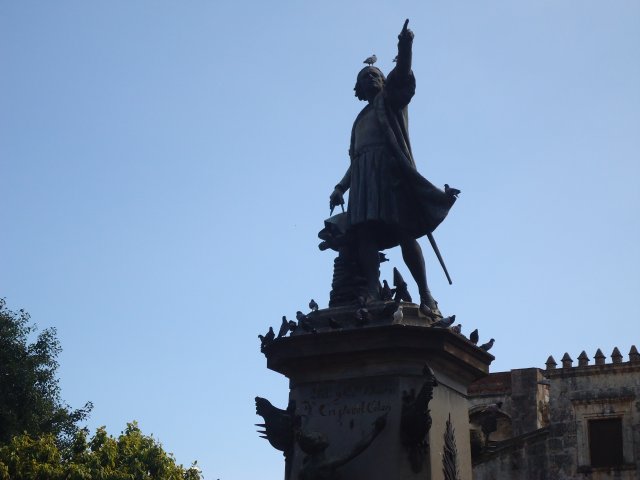 It was good to get back into the Hispanic side of the Americas, even though Boca Chica, the suburb of Santo Domingo where the marinas are located, was next to what amount to little more than a hotspot for (mostly Italian) sex-tourists. We toured the capital, and I had our bow-sprit replaced and welded back together, another result of our horrible ride here. Harald panicked and turned back to the windward chain; I heard from him days later, he had landed on the ABCs close to Venezuela due to adverse winds instead.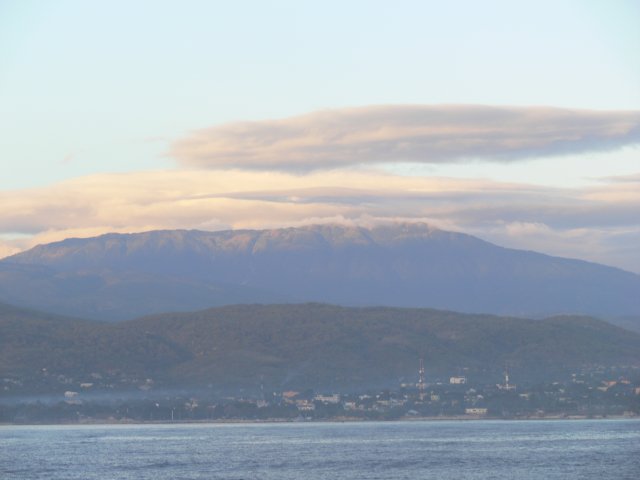 Henning left for Europe, and we were joined by Rebecca a brief visit, and hopped down the south coast in the hopes of more authenticity, stopping first at Salinas, a place where small-scale salt production has been operative since Spanish times. This was much more pleasant, only surpassed by Barahona near the western end of the south coast of the Dominican Republic.
We entered at night following the (working!) buoys, anchored near the yacht club at the top of the harbour, and settled in a for a few weeks' leisure activities. Rebecca departed, and Robert joined us here. This pretty, medium-sized town was entirely tourist-less, and we had our fun partying this town in spite of the Marsian stares. I had already been warned about the enormous levels of corruption in this country. A chain of US-supported dictators robbed the country blind for decades, and the current president is hiding billions in offshore havens. Predictably, this translates down the ranks, and the navy in Boca Chica shook me down for an undefined fee the abject officer in charge of the laughable shack next to the fishing harbour had apparently just made up. I declined payment, and he took me aside for a rather strange conversation, where he was apparently insinuating that he would complicate my affairs if I didn't "cooperate". This standoff went on for some time, until he lost patience and issued the "despacho".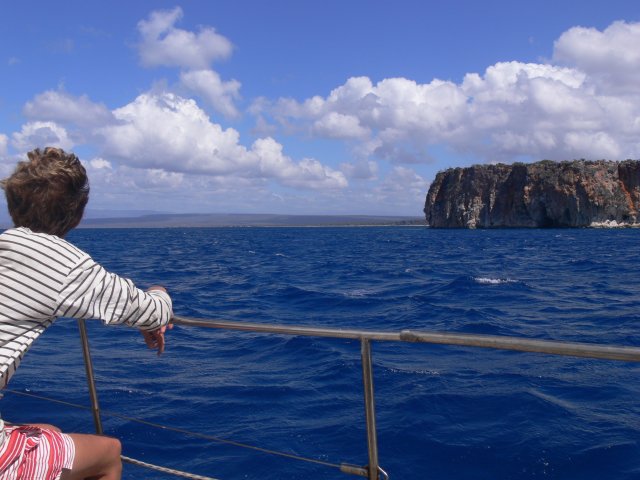 Getting the international despacho for Haiti in Barahona was even worse; the officer in charge was running his own bar opposite the slightly more impressive barracks, and he turned up drunk. We had an endless discussion where I even threatened to travel to Santo Domingo to get my despacho from the Admiralty themselves, even though I'm sure they would have just been more expensive. I was also under time pressure and finally caved in. He got his USD 25 for a hand-written receipt I extracted against massive resistance on his part, and pretty much entirely for comedy value.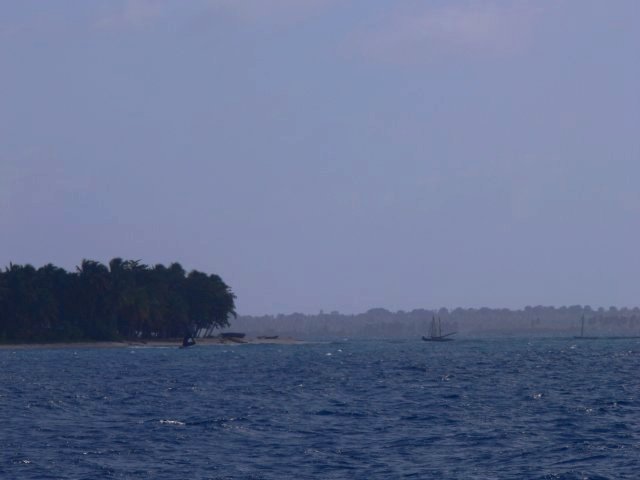 Ile à Vache, Haiti, Francophone and poorest country and the first to gain independence after a slave revolt, turned out a lovely and deeply exotic place. The locals go out fishing on sailing canoes, or grow their own food; the economy is just about cashless, and people seemed rather pleased with their lot.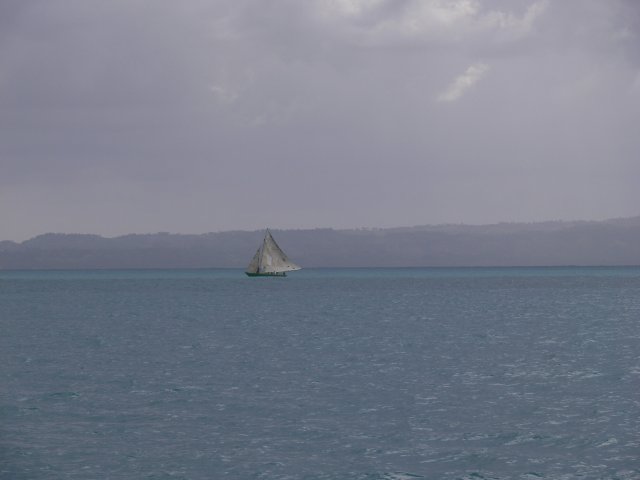 But Ile à Vache is changing fast, and apparently the entire village of Port Morgan is to be moved for an airport and hotel construction project, initiated by the president and a Spanish pop star by the name of Iglesias. The locals are not very impressed at all, and their protests have triggered a permanent presence of the Haitian military on the island. On a long walk around the island, I actually got pulled over by a local who said he doesn't like tourists. It took me some time to explain to him and his angry looking, well-built friends that I'm not the type of tourist they're building hotels and airports to; after all, sailing vessels have been coming and going for decades if not centuries. After all, Port Morgan was once allegedly the hideout of the infamous pirate Captain Morgan (arrrr!).
We had another harsh passage to Cuba. We actually shipped quite a lot of water, and the bilge pump packed up. Christine's joke "What are you sinking about?" was still funny though. We arrived in Santiago de Cuba battered and tired, and we were consigned to the boat until the police had checked us in. Really existing socialism might be a fine idea in principle, but the type of communism they've got going here seemed to primarily involved a lot of uniforms and a very thorough search of the boat. They were extremely polite, proper, and rather gleeful when they found 12 cannabis seeds. I informed them that it was probably part of someone's muesli, after all, hippy boats attract muesli eaters, but apparently Cuban law takes rather a dim view of muesli ingredients. I was charged with possession of an illegal substance and had to pay USD 200. I got a receipt for my 12 and 4 halves of seeds.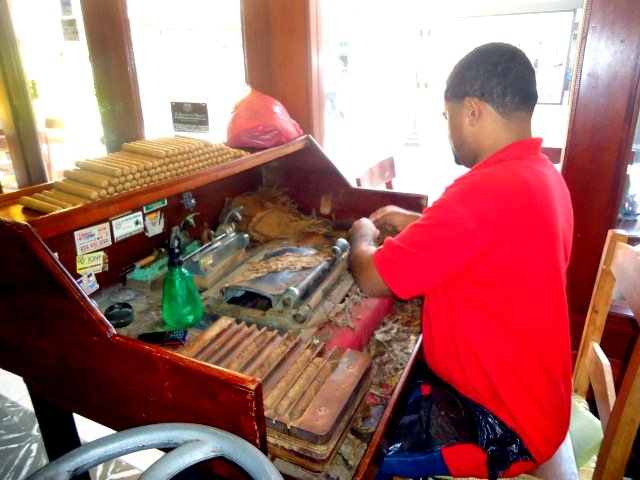 Cuba is actually a dual economy country at this time; there are two currencies, and everyone wants to get hold of currency number two, the convertible, which is, as the name suggests, convertible into US Dollars. A local elite has formed, and, since all salaries are paid in local pesos, their money for cars and parties must be ill-gotten. Faced with growing discontent and emigration to the nearby heart of darkness, the Cuban government is making all sorts of compromises. Overall, coming from Haiti, I was rather impressed with the achievements of the planned economy. Some of the public health and life expectancy indicators are better than in the neighbouring developed economies (specifically the US), and everybody has housing, food, running water, and sanitation, which was not the case in Haiti.
Sadly the Swedish twins, easily the most competent crew I've had, left, and my friend Richard and Stacey arrived. They immediately devised and played a bowling drinking game together with Robert, whereby the loser had to drink absurd amounts of rum every round. We generally had a superb time in Santiago. Since Raul Castro's reforms, boatists are only allowed in marinas, probably an attempt to control the incessant people smuggling. We stopped over at a tiny fishing village, I managed to obtain special permission from the coast guard to go to shore and buy water, and we met some fishermen in the mangroves. They snorkeled to our boat, and we traded cigarettes for fish and vegetables with them.
We failed to land at the Jardines de la Reina on the Southern side of Cuba, again due to a nasty cold front coming down from the Gulf of Mexico, and I diverted to Cayo Largo instaed. This package holiday destination is a fantastically beautiful Key (Cayo) with a couple of all inclusive hotels, and we ended up enjoying the buffets and all inclusive cocktails for a couple of weeks.
Sadly, we once again ran into trouble with the Cuban authorities, when a late night bar incident led to our expulsion from Cuba. The crew left for La Havanna to get their flights back, and I set off for Mexico with Christine. We made another entirely illegal stopover at the Western end of Cuba, where I sought shelter from a front in bay. We caught two tuna at the same time, ran into the furious secret police on shore, and were told not to land in random villages again under the threat of arrest. This was quite enough Cuba for me, and we left in the morning in spite of a gale warning for the Canal de Yucatan, which separates Cuba from Mexico.
En route, having received weather information via my sat phone (thanks Mike!), I decided to avoid the gale and diverted south straight towards Honduras. The 500 nautical mile journey took us 5 days, and I employed a rather relaxed style of sleeping for most of the night in the face of mild weather and zero traffic. A decade or so ago, I had done some diving around Utila, and it was lovely to come back and see how the place had developed. We stayed for Semana Santa, or Semana Loca as the locals like to call it, and partied with the backpackers and Hondurans.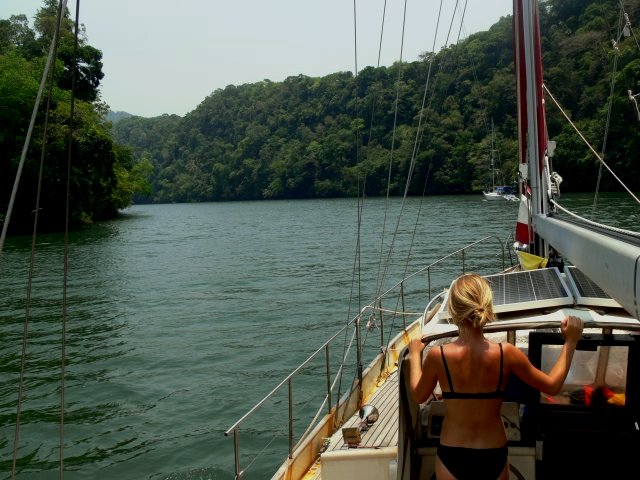 Another month went by, and we decided to head to Guatemala to park the boat for Hurricane season and a much-needed holiday from the camping lifestyle. We checked in at interesting Livingston, inhabited by Garifuna, who were originally exiled to nearby Roatan from St Vincent by the British following a revolt, and who ended up settling the bay of Honduras up to Belize. Their langauge is a mixture of French, Spanish, and, amazingly, Arawak, the language of the natives Columbus encountered and decimated upon arrival in the windward islands, stating, perhaps with a bit of cynicism, that they "don't fight well".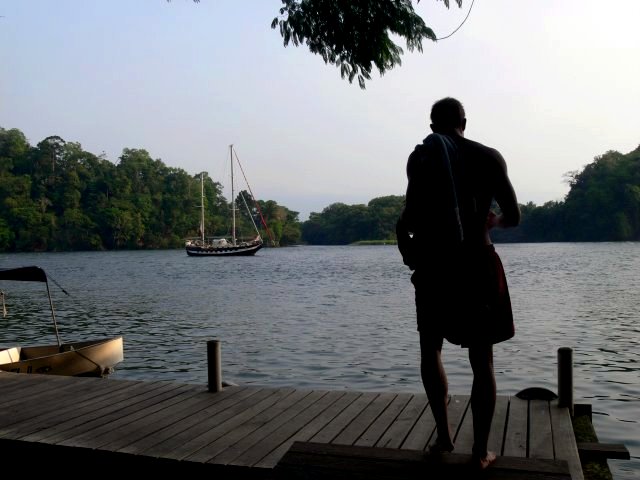 We travelled up Rio Dulce for 20 miles or so. Fronteras, or Rio Dulce, a tiny village in an idyllic setting in the middle of the jungle, was a nice place to finish the tour. We anchored here for a few weeks to sort out the formalities and park boaty up on the hard at marina Nana Juana. That's all.