"What is that feeling when you're driving away from people and they recede on the plain till you see their specks dispersing? – it's the too-huge world vaulting us, and it's good-bye. But we lean forward to the next crazy venture beneath the skies."  – 
Jack Kerouac, On the Road
We persevered in lovely Natal for a fair few weeks, once again at anchor up a mangrove-lined river. Arne trundled in by bicycle and joined us for some of it. The fortunate occurrence of the launch party for a silly-looking TV series ("Flor do Caribe") in the marina on our very first night got us litres of free bubbly, as well as getting us in touch with a few pleasing locals, who were by all accounts also just gatecrashing this weird event.
There was a big Norwegian goodbye party; with 15 souls on board at anchor, I spent most of the night ferrying people back and forth. Niklas, who had proven an excellent party companion, departed around this time, and Texan Katie arrived. Time was just flying by at a speed I've only ever experienced in Brazil. The easy going, one day at a time attitude that pervades even the locals' grammar, simply doesn't leave any space for tédio. Richard, whom I shared last season's hedonist swan song down the trashy holiday resorts of Lanzarote and Fuerteventura with, showed up for another stint.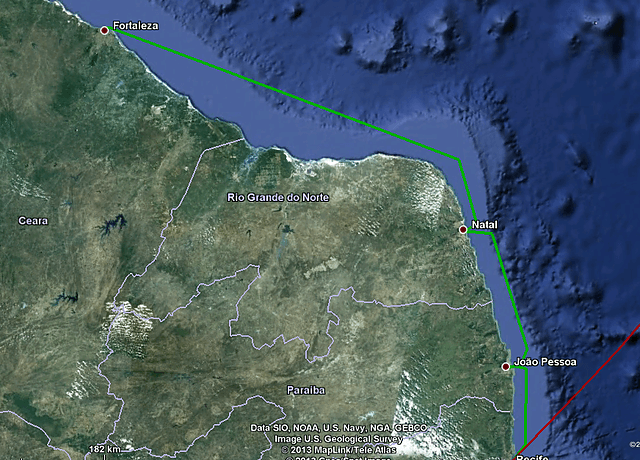 Eventually up anchor and set sail for Fortaleza we did. We buddy boated this 200-something mile stint with Harald, a crazy German on a wooden racing boat, dodging a range of oil platforms and fishing boats on the way around the shallow north-eastern end of South America, Cabo Calcanhar. Wind and current were on our tail; this and the fantastic tropical ocean blue once again made me feel grateful and pleased for having made it to the tropics.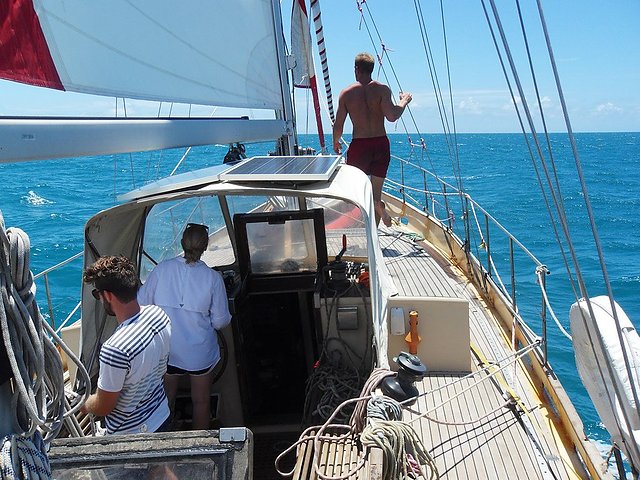 Kyle caught a small tuna somewhere near the cape. As tradition demands, I begged its pardon. We then sashimied our new-found friend right then and there. We arrived in Fortaleza in good spirits the next day. There was a bit of confusion about the location of the marina, since the pilot station's staff got confused and tried to send us to the wrong end of the harbour.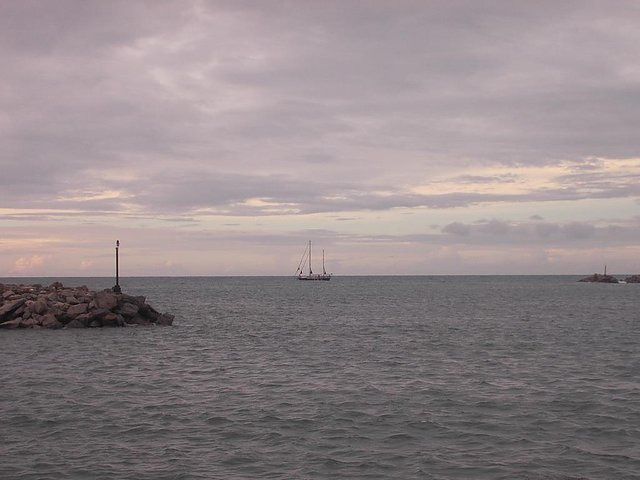 The docking maneuvre turned into a medium-sized nightmare; we had to place our anchor and dock stern-to, a technique German sailors call römisch-katholisch by reference to missionary (as in the sexual position). Kyle was on the anchor winch, while I was using the bow thruster extensively. Both failed simultaneously, prompting me to check what was going on. I ran into the nasty stench of burning plastic from a cable fire in the room. I went back up on deck to announce "fireeee on board!" loudly, just because I'd seen that in some film, and went back down to give it a quick, yet firm going-over with the engine room fire extinguisher.
All was forgotten after a few docking lagers by the pool later. I'd inadvertently parked boaty inside a 5 star hotel. Fortaleza proved good fun, and we celebrated our arrival by way of a naughty naughty week's worth of hedonism. Richard narrowly avoided getting mugged outside the hotel, only to be saved by hotel security, whom I was ironically at war with over their restrictive policy regarding visits.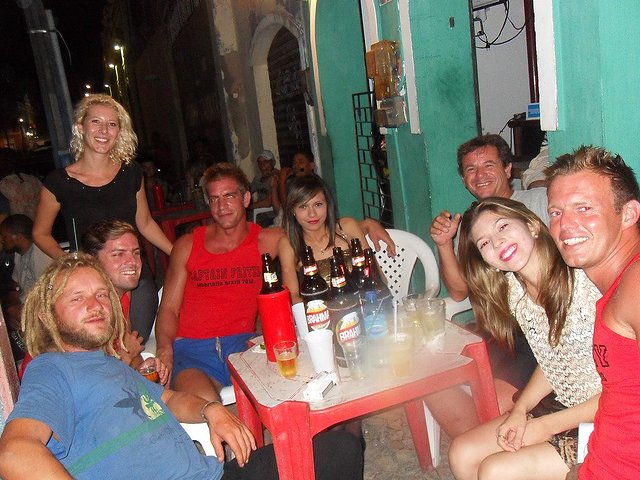 Once again Arne showed, having biked up from Natal with the Norwegians. We were also reunited with some local charmers we met at the Carneval. Our Carioca neighbour Toto, captain on a fairly sizable catamaran, also proved to be excellent company. It was also a privilege to meet Ariadne Arantes here, participant in the 2011 Big Brother Brazil, and also the first transsexual to be queen of a samba school at this year's carnival, a bit of a historical moment for that particular movement.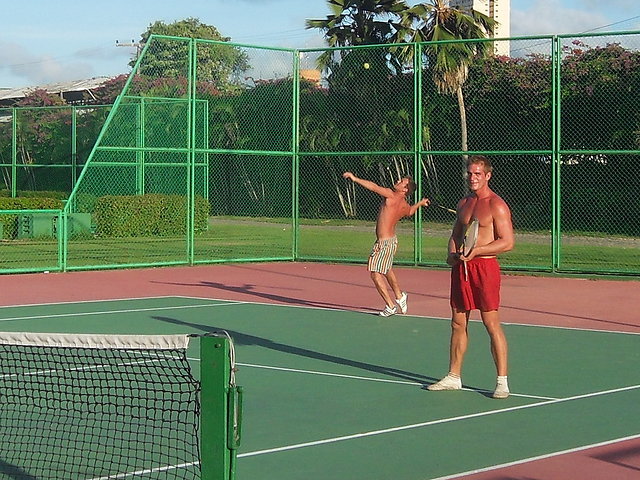 It's week 3, and we are still persevering in this odd island of luxury, enjoying our last moments with the kind, mild-mannered natives that make this country so very special. Fresh crew has arrived in the form of Leentje, and I am ready to depart towards French Guyana shortly. But, to borrow the words of the late Terminator T-101 in the film of the same name: I'll be back.